Since December 2019, most lakes and rivers in Uganda experienced increase in water levels leading to flooding downstream hence affecting communities close to them.
The water levels of lake Albert rose by a record 14.6 meters in September 2020 and this has seen thousands displaced hence impacting on the social and economic livelihood of the communities.
Scientists say torrential rains and drought are evidence of climate change as man destroyed the environment without care for nature and ecosystems to enlarge their empire for wealth creation through industries and emitting toxic fumes to the atmosphere.
As a result, the ozone layer continues to be affected leading to prolonged drought and in some cases, heavy rains.
Around Lake Albert, fishers who were displaced by the floods in 2020 have never regained their livelihoods amidst minimal to no support from the government to rehabilitate them.
Ms Nyavita Juliet, 55, a fisherwoman at Songalendu landing site in Buliisa town council says fish catch was high before rising water levels.
"The fish catch was not much as such but the rising water level chased the few fish far away to deeper waters where we could not reach because we could only manage to fish along the landing site," says Ms Nyavita.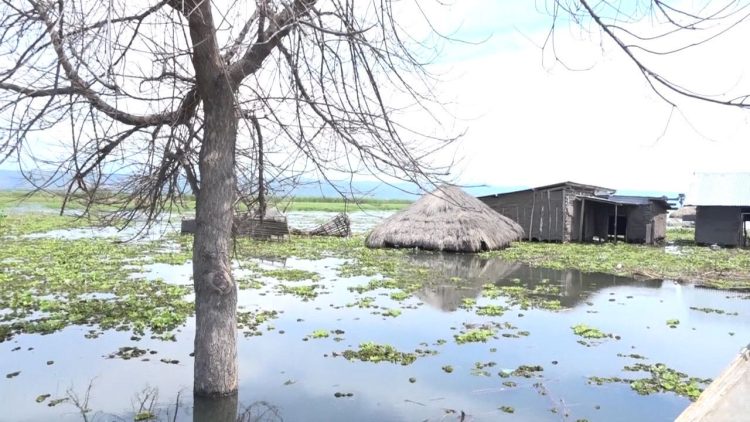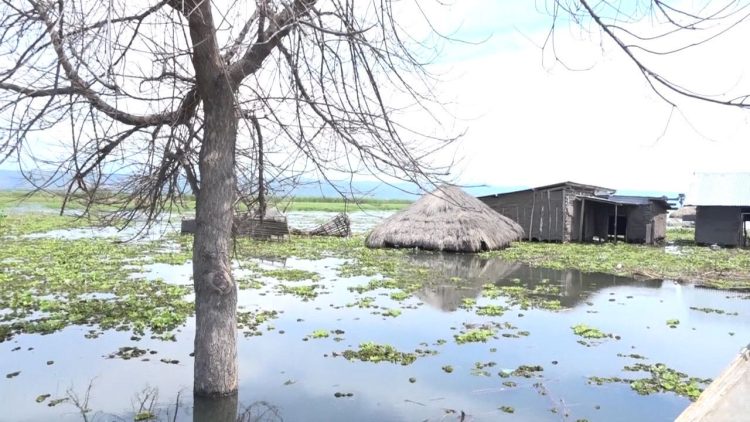 According to her fish drifted to deeper waters due to dirty flood waters at the landing site.
"Fish shifted to deeper waters because flood water were dirty and dark, it affected fish visibility," she says.
Ms. Nyavita has resorted to selling firewood.
"I have resorted to tree logging and we are surviving on God's Mercy, the little money we get is what we use to buy food to eat," she says.
As water levels are decrease after about one and a half years, all trees that were submerged have dried up including bushes and this have given women an opportunity to resort to cutting dry trees for wood either for sale or cooking.
Ms. Nyavita's flooded home is just two miles away from where she currently lives. She early awaits the time her home dries up so she can return to her home.
Mr. Kizito Parmu,46, another flood victim in Buliisa says Lake Albert was his main source of livelihood. Mr. Parmu has been a fisher man for over 25years but floods displaced him from his home in Munyali. In his glory days, Mr. Parmu earned at least Shs40,000 to Shs50,000per day from fishing and harvesting cowrieshells.
Mr. Parmu is now a metal scrap dealer.
When our reporter met him on Thursday last week, he had just returned from selling seven kilograms of scrap materials for remolding, to a village buyer.
Collecting useless scrap materials from garbage pits and community centers for sale is his alternative to fishing but this is a lowly paying yet hectic venture.
The fishers in Buliisa say they woke up to flooded homes in 2020 and have had to adapt in difficult ways.
Mr. Cuthbert Rukonkona, a fisherman at Songalendu reveals that he had two fishing boats, rentals and a video hall before rising water level washed them away.
"I used to earn around Shs500,000 per month from all my business but this changed when water washed away my houses for rentals. Some of my fishing nets were stolen and I sold off the monofilament nets since I had no means to survive as a fisher man," Mr. Rukonkona.
He has resorted to phone charging and constructed another video hall which he says, is not bringing in much money.
"The video hall is not earning me money because people are poor and have no money to watch films. Other people have shifted to other landing sites while others went back to there Homeland across the lake and I only earn about Shs5,000 per day. This cannot bring any meaningful development in my life," he explains with a sad face.
Mrs Bitekerezu Violet, 40, from Katala landing site in Buliisa town council says with the rising water level, fish catch reduced tremendously and they (firemen) were ever on the move shifting from one landing site to another.
"I was a fisher woman. I could fish since I had nets and a boat before water level rose. On a good day we would come back to the shore with enough catch and I would even buy from my colleagues these fish and in a month, I could buy fish equivalent to Shs1.5million. I would sell and get double, Shs3million in a month. When water levels increased, we could hardly get any fish, " Mrs Bitekerezu explains.
She adds;
Mrs Bitekerezu has turned to making pancakes and selling produce as a way to earn a living though she says it is not as profitable as fishing was.
"I can't earn that much from produce store, now I can manage to get only Shs300,000 per month and this depends on what you stocked and how people have consumed it," She says.
Mr. Epafura Muliisa, the Mayor Buliisa town council when contacted reveals that floods affected people were getting some relief items and support from office of the Prime Minister though this too has stopped.
"Office of the prime minister (OPM) has been supporting these people with food items like maize flour, beans and house hold untensils like blankets, jerycans, basins among others though these days the support and relief items stopped coming, we don't know why," he explains.
He adds;
"We as local government we don't have a clear program aimed at solving these problems though we registered all people who were affected especially in Buliisa town council".
OPM started supporting flood affected people in June 2020 and stopped in November, 202.
The last lot of floods affected people shifted from their homes in Kaloolo landing site in November 2020 to other areas.
Their hope as the water levels begin to reduce is that there are disaster management mechanisms that work for they who are in villages and living by the waters of Lake Albert, a place  they call home.
This story was produced with funding from WAN-IFRA African Media Grants